COVID-19 Statement
NDCCPI is committed to providing early childhood professionals with support through this difficult time.  We have numerous places on social media where you can connect to others in our field.  Please visit our Facebook page to get connected.  We will get through this together!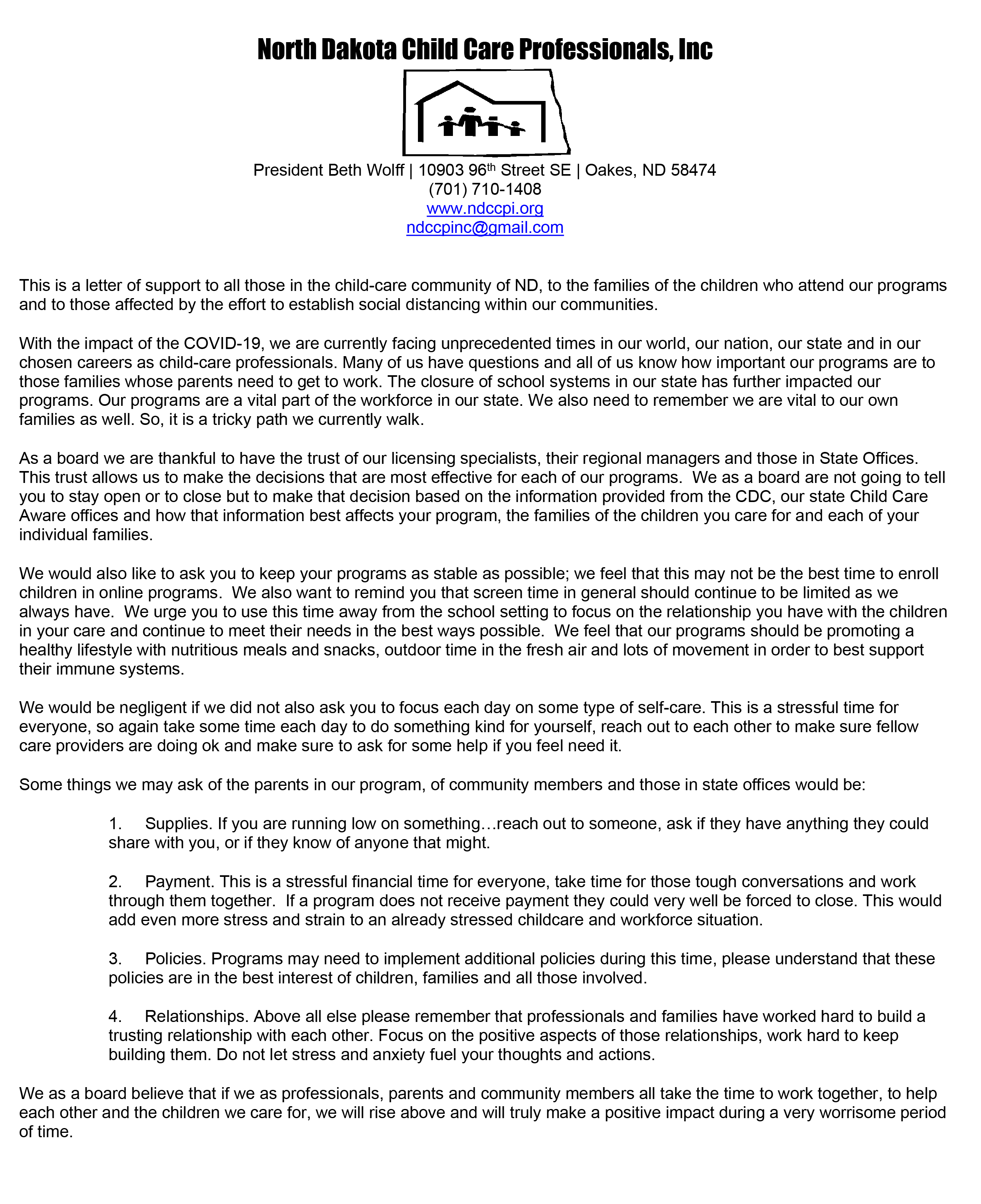 North Dakota Child Care Development Fund State Plan
ATTENTION PROVIDERS:
The North Dakota Department of Human Services will be holding a public meeting to discuss the draft of the Child Care Development Fund State Plan on July 30th, 2018.  Providers are encouraged to attend on of these meetings to ensure that their voices and opinions are heard.  This Development Fund is the federal money the state receives for child care in North Dakota.  Please take a look at the attached link http://www.nd.gov/dhs/info/pubs/childcarepub.html to read the draft.  Pages 69-147 affect Family Child Care.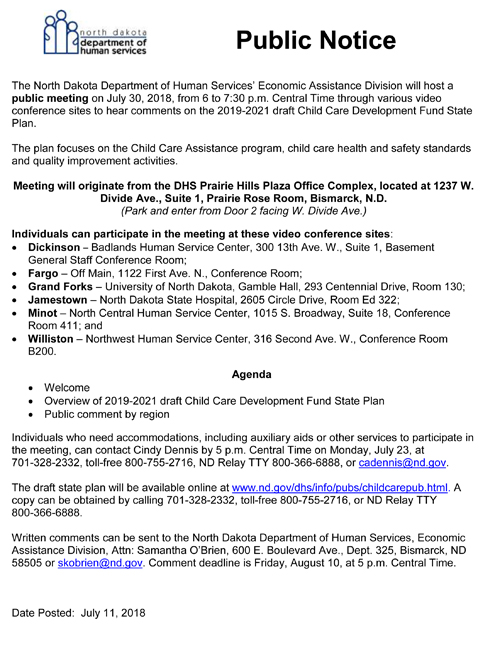 North Dakota Child Care Providers Inc. Name Change Proposal
The NDCCPI Board of Directors is proposing a name change to our association by-laws and our non-profit 501c3 information.  As a board we are proposing changing the name of our association from North Dakota Child Care Providers Inc. to North Dakota Child Care Professionals Inc.  This will be voted on as association at our general meeting to be held on April 14th, 2018 at our annual conference.  Please contact us with questions or concerns prior to the general meeting.  We would like to be prepared for all discussion that may occur.
According to our current bylaws all proposed changes need to be proposed in writing 60 days in advance of any general meeting.  This post serves as that proposal.
North Dakota Early Childhood Focus Group Invitation
Many have received the following email from ND Dept of Human Services. If interested in being part of the following focus group take a look at the picture below and follow the instructions prior to May 7th, 2018.
In a joint collaboration, the North Dakota Department of Human Services (NDDHS), Division of Children and Family Services and the North Dakota Department of Public Instruction (NDDPI), Office of Early Learning are inviting all North Dakota Licensed Child Care Provid...ers to participate in a statewide focus group opportunity. Please see the attached invitation memo for more information.
Respectfully,
Kris
Kristina Dirk, MSW, LCSW
Office Manager
--------------------------------------------
ND Department of Human Services
Children and Family Services
This email address is being protected from spambots. You need JavaScript enabled to view it.
701.328.3541 FAX: 701.328.3538
ND Early Learning Guidelines Update

NDCCPI recently received word from the Department of Public Instruction that the North Dakota Early Learning Guidelines and Pre-K content standards will be updated.  The Department of Public Instruction is looking for as much participation as possible to complete this update.  If interested in participating please click the link below to be routed to the Application for Selection on the Department of Public Instruction's website under Standards at
www.nd.gov/dpi/SchoolStaff/Standards/